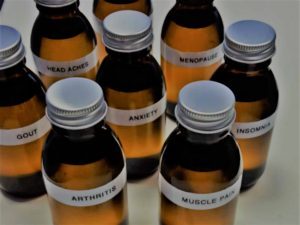 Our Lead Sports Therapist Jo is qualified to provide aromatherapy treatments.  Aromatherapy is a holistic treatment, the aim of which is to produce a physical, spiritual, emotional and mental sense of well-being through inhalation and massage of essential oils. Essential oils are derived from plants and are chosen for their particular therapeutic qualities that are stimulating, refreshing and sedative. Massage is used with the oils to enhance their effectiveness.
It is one of the fastest growing complementary therapies in the world and is recognised as one of the most natural and holistic treatments available today. Its aim is to release feelings of well-being, harmony and improved mental and physical health. Living with stress produces a state of muscular tension – our hearts work harder, valuable energy is burned up unnecessarily, we become fatigued and sometimes depressed. Consequently our resistance to infection and disease is drastically reduced.  Aromatherapy helps deal with the effects of stress, specially designed to relax tension, restore vitality, and reduce the workload of the heart, nerves, breathing, to name but a few…
When booking an appointment please let the reception team know what symptoms you would like to be treated. For example, Stress, Insomnia, Stomach complaints, Digestion problems, Depression, Circulation, Colds, PMT & Menstrual problems, Migraine etc. so that oils can be mixed specifically for you beforehand.  The aromatherapy massage includes the whole body, however it can be combined with a Sports Massage.
To book simply call our clinic on (01903) 66 00 94