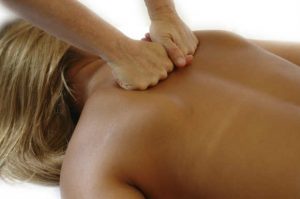 Sports massage is often the answer to relieve deep held tension in muscles and surrounding soft tissue.  Aches and pains, stiff joints and restricted movement are improved with specific massage and mobilisation techniques.  Sports massage works through releasing peripheral muscles that you can see in the mirror and the deeper postural muscles that you can't.
At our modern clinic the therapists use a variety of specialist massage skills to soothe away knots and tension and revitalise muscles that are either over worked or under worked.  The team also use Acupuncture, Laser therapy and Kinesio taping to improve the treatment outcome.
Sports massage is a great option for people from all walks of life.  Despite the name you don't need to be sporty to benefit.
Please call us on (01903) 66 00 94 to discover more.