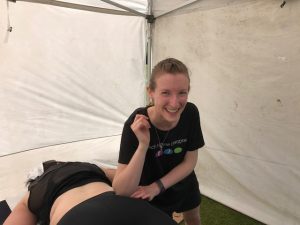 Hi, I'm Claire and as one of the Sports Therapists at Beach House Chiropractic I can help not only treat any sports injuries you have but also provide qualified advice for preventing injury.
Having achieved a BSc degree in Sports Therapy I have spent years working as a therapist and personal trainer at a busy Sports Injury Clinic in Bedfordshire.  I moved to Worthing in 2018 with my family and it's great to be back near where I grew up.
I have a deep appreciation for the wears and tears sports can put on your body.  As a past county 800m runner I was no exception to injury and this was my motivation to train in Sports Therapy.  It's helped me immensely and it's so satisfying to help people get back to performing their best in the sport they love.  Do you have an injury that's holding you back?  Perhaps you have goals this year that your body is preventing you from achieving?
I'd love to help.  To book your Sports Therapy treatment simply call Beach House Chiropractic on (01903) 66 00 94 and let's see what we can do to get you back to your best.
"I Received a deep tissue massage from Claire Jellows after suffering sciatic pain in my lower back. After 6 block sessions I am pain free, she was fantastic"  Jamie B
Related Qualifications & Courses;
BSc Sports Therapy – University of Bedfordshire
Acupuncture & Dry Needling- Bernard Nolan
Thor Low Level Laser Therapy (Photobiomodulation)
To book your Sports Therapy treatment simply call us on (01903) 66 00 94.