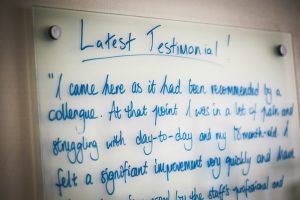 "So glad I went feel so much better first class Treatment all the way from opening the door to closing it when you leave its a big thank you from me".
Russell T. 
"Absolutely incredible. Since seeing Jo she has alleviated years of pain and aches, and offered expert advise throughout. Even the headaches are going! Dont suffer in silence and see the difference a quality sports massage can make! Highly recommended". 
Simon C.
"Extremely comfortable , friendly and professional. I have already recommended you to a friend"
Sophie K.
"Amazing experience. Sports massages to a very tired old body. It's really helped and have rebooked to continue the treatment. Safe environment during these difficult times and feel relaxed and happy to be treated at Beach House".
Duncan K.
"I had a sore shoulder due to repetitive use, I was seen by David who was completely professional and friendly, it put me at ease straight away, I was given some exercises to do and its 100% better, then I went back for ligament damage to my foot, I had this problem for 4 years again seen by David, who was polite, friendly and very knowledgeable about my ligaments, both times I was seen on the same day, and was treated with respect, this practice is extremely clean, and everyone who I've seen by or spoken to have been very nice, its great to know there are nice trustworthy people out there who know what there on about".
Lisa M.
"I first went to Beach house in a lot of pain with my lower back I booked an appointment with Claire Jellows. The first session really helped, so I booked in for 6 more. By the end off my 6 sessions my back was better than it had been in years. I would definitely recommend a deep tissue massage with Claire she was fantastic".
Jamie B.
"I think Jo is wonderful. Very knowledgeable and professional. I got further forward in my recovery going to Beach House than anywhere else I have been".
Hannah F. 
"Beach house are brilliant. I'd be disabled without Jo. Beach house will fix you".
Natalie B.
"Fantastic friendly, professional welcoming people. After each treatment with my sports therapist I can feel improvement & hope to be back to full recovery soon. Thank you"
Alison A. 
"I'd been troubled with shin splints for years. In to my 20's I would often run with no problems. I then stopped for several years, each time I tried to take up running again I got shin splints, and despite trying everything I could think of, the shin splints just got worse.
Last year I tried again, and the shin splints started up again. A friend suggested that I saw Jo at Beach House for a sports massage. If I'm honest up front I was a bit skeptical, especially when Jo suggested that some acupuncture as well as massage may help.
However the outcome has amazed me, after two sessions the shin splints were gone. I've continued having sports massages, and occasional acupuncture every few weeks. Jo is excellent and has managed to sort out any niggles, tightness or strains before they become a problem. And as for the running, I now run regularly, I'm running further and faster than I have for nearly 30 years".
David C. 
"They know their stuff! Professional, relaxed and friendly service".
Elizabeth B.
"I can honestly say that I have noticed a remarkable difference since my treatments have started. Georgia, Yulia and Jo have all been instrumental in helping me move more freely and reduce my pain. The mixture of acupuncture and massage along with Chiro really seems to have worked and I'm pleased to say that I am now beginning to have some control over my damaged nerves in my feet !! All in all I am very pleased and I must say that all the team here have been very friendly and offered great advice. Thank you :)"
Phillip M. 
"The lymphatic massage is very good. Afterwards, over a few days I felt fresher and lighter".
Helen S. 
"After living with neck and shoulder pain for the past few years intermittently and having regular relaxation massages regularly with short term results I was unsure how effective a sports massage would be but it was the best 45 minutes spent and felt the effects straight away. Jo knows exactly what she's doing and checks in with how it feels and explains exactly what's happening. She's very knowledgeable and professional and she puts you totally at ease. Thank you Jo and see you soon!"
Claire H. 
"after the first treatment I could feel the difference but after three the results were amazing – literally all pains and aches were gone…the combination of (acupuncture) needles and massage was quite literally miraculous!"
Sally H. 
"…I see Jo for Sports Massage and I believe this has helped me. Now I'm back to playing tennis 5x per week, football and have also joined a running club. Hip and shoulders feel great, at 51 I can still enjoy all my sports and work so thank you guys! I would recommend Beach House Chiropractic to everyone"
Barry P. 
"in the summer of 2014 I was unfortunate enough to be run down by a car, injuring my left knee very badly. Both Ali & Jo at Beach House worked on the injury with laser treatment, massage therapy, exercises and stretching. I can now cycle as well as I could before my accident and have great faith in the team in helping me through a really bad injury.  I will continue to visit them as the ongoing treatment is fantastic for helping me maintain my physical condition. Many thanks to all the team at Beach House Chiropractic"
Mick W. 
"All the staff are very professional and friendly, and I have received excellent treatments. I would not hesitate to recommend"
Alison B. 
"Very professional with conscientious staff, appointments on time, etc. Diagnosis and progress checked each visit. Appropriate treatment given plus further advice. What more could one ask of a clinic!"
David N. 
"Been a pleasure from the start of my treatments. All staff are friendly and helpful and its nice to see smiley faces. Treatments are explained and as I always ask questions, you feel as though you gain knowledge of how best to maintain your goals. Will continue to recommend friends, keep up the good work."
Clive S.