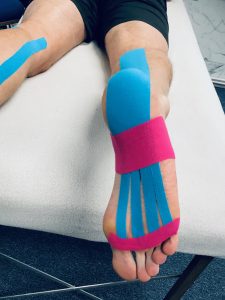 Kinesio Tape (K Tape) is used in many Sports Therapy treatment appointments to aid stability, encourage injury healing and relieve pain.
Our Sports Massage Therapists are specifically trained to apply K Tape in a way that supports your activity, providing the extra comfort you need to train.
K Tape has properties that reduce the load on over-worked muscles and joints without compromising essential smooth movement.  It differs to traditional strapping and compression that has the aim to stabilise by reducing movement.  It's why you'll often see athletes competing whilst wearing the K Tape.
We promote the use of K Tape at our practice to help you continue enjoying activity without compromising your performance.  Our therapists use K Tape during a normal Sports Therapy appointment or as a focused visit.  Sports Therapy appointments usually last for around 45 minutes but a focused K Tape appointment lasts for 10 minutes.
To book an appointment for a full Sports Therapy treatment or a focused K Tape session, simply call us on (01903) 66 00 94 or use our contact form and we will arrange everything for you.