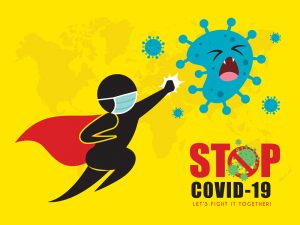 Working together has always been the cornerstone of a successful therapy relationship.
We are pleased to remain open to help you. It's our priority at this time is to keep everyone safe. So, with this in mind we'd like to ask you to help us by following 7 important steps when visiting for your treatment.
If you or anyone in your household experience any symptoms of the Coronavirus (Persistent cough, high temperature or loss of taste / smell) please call to cancel your appt. We will not charge a late cancellation fee.
Please arrive as close to your appointment time as possible – not too early and not late.
Face coverings are now mandatory in public / enclosed places. Please wear yours in reception. Exemptions for health reasons only. Eating or drinking does not provide an exemption in our clinic so please leave food and take out coffee at home!
Please sanitise your hands before and after your treatment. There are sanitisers throughout reception.
Our toilet should only be used in emergencies. Please go at home before you visit.
Please remember to advise reception if you intend to bring a partner or your children with you. This is to help manage the number of people in the reception at any one time. A chaperone is only allowed for safeguarding or safety reasons.
If you have any questions or concerns, please don't hesitate to ask. We want you to feel comfortable and safe.
Following a risk assessment we've also changed diary times to manage the reception area, put in place a stringent cleaning protocol including regular disinfectant fogging and the team have completed infection prevention and control certified training. The team wear appropriate PPE for each treatment.