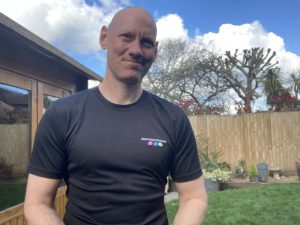 Pain-Free Movement To Live Life at Your Best!
Hello, I'm David and as well as being one of the clinic owners I'm a qualified (Level 4) Sports Massage Therapist and Corrective Exercise Specialist.  I've a particular interest in helping people move without pain and restrictions to enjoy a more rewarding and active life.
As a Sports Massage Therapist, I find there's great reward in helping someone overcome an injury and get back to their active best.  It's a passion of mine to not only help sporty folk, but anyone who has a desire to move better and do more.
It would be my absolute  pleasure to help you overcome any physical challenges you're having.  Perhaps you need a thorough back, neck and shoulder deep tissue massage to release layers of tension, a locked / stiff joint needs freeing up, or maybe you're looking for a complete sports rehab plan.  Personally I like to provide a mixture of deep tissue treatment, acupuncture, sports stretching and kinesio taping for my clients.  I can also provide specific training advice and injury prevention tips. Wherever you're at right now, I'm certain there's a way my colleagues and I can help you get back to being your active best. But don't just take my word for it…
"I've had headaches for 20 years and really bad since a car accident two and half years ago. I thought i would try a sports therapy massage with David and from my second visit they are 70% reduced! I feel like I'm finally getting back to normal so if you suffer you must try this!!" Sarah B.
"I had a sore shoulder due to repetitive use, I was seen by David who was completely professional and friendly, it put me at ease straight away, I was given some exercises to do and its 100% better" Lisa M.
"Excellent service – had several sessions over the last few months, great attention to detail and suggestions and service for treatment have been spot on. Always polite, on time and go out of their way to help with your issue. Would not hesitate to recommend to friends and family. Many thanks" Aaron C.
"5 Stars" Paul M.
"Very knowledgeable practitioners who make you feel valued and welcome, and leave you feeling better than ever." Leia M.
"I sustained a shoulder injury whilst climbing and over the course of 5 months, had a number of therapies including massage, acupuncture and physiotherapy, before Dave at Beach House was recommended to me. He is simply the best physio (Sports Massage Therapist) I've ever been to see. Clear, and extremely knowledgeable friendly, helpful and supportive. I'd recommend him to anyone." Claire L.
Related qualifications & Courses:
ITEC Level 4 Sports Massage Certificate (Distinction)
National Academy of Sports Medicine Corrective Exercise Specialist
Bernard Nolan Acupuncture For Sports Injuries
Kinesio UK Taping Fundamental & Advanced KT1 & KT2
Body Master Vital Shoulder Complex Master-Class Certified
Body Master Vital Glutes & Psoas Master-Class Certified
Body Master Vital Hips Master-Class Certified
Rockblades certified IASTM
Certified in Shockwave Therapy & Light Laser Therapy
Member of the Federation of Holistic Therapists (FHT) No 208838.
To book an appointment simply call our clinic on (01903) 66 00 94.